As you may or may not know, my favorite time of year is fast approaching! Fall? I do like it, but it's not my favorite. My birthday? Pretty darn good, but still not my favorite. New television? HELL to the YES! I got my Fall TV Preview issue of Entertainment Weekly last Monday and I've been saving it for just the right time. But before I unleash the onslaught of new TV upon you, I figured I'd catch you up on television that I've discovered during the past year. I'm definitely a latecomer to a few of these, but hopefully at least one will be a new jewel of a recommendation for you.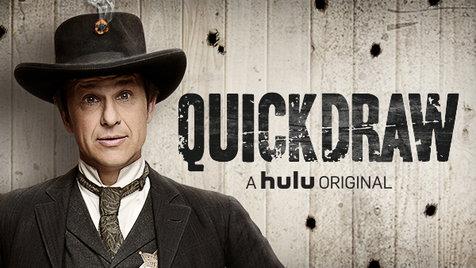 Quick Draw (Hulu/Hulu Plus)
OMG, I loooooove Quick Draw so much! It's a mostly improvised fish-out-of-water story – Sheriff John Henry Hoyle is Harvard-educated (as he is always quick to mention) and is attempting to bring law and order to the Wild West town of Great Bend, Kansas in 1875. The supporting cast are great and they're all hilarious. I honestly can't recommend Quick Draw enough – go watch it!
The League (Wednesdays @ 9:00-9:30 CST, F/XX, past seasons available on Netflix or Amazon Prime)
I don't remember what made me turn to The League one evening on Netflix, but it seemed that I'd heard good things about it. After the first episode, I thought 'Wow, these characters are SUPER unlikable… I'm going to watch another episode.' Five seasons later and I still don't know why I'm hooked, but I am. Hooked!
Archer (F/X, season 6 begins in early 2015, past seasons available on Netflix)
I've been trying to watch this show for ages – so many people whose tastes I really respect absolutely adore Archer. I tried a year or two ago and just couldn't get into it. For whatever reason, the timing just wasn't right. But a few months ago, the stars must have aligned because I love it – it's so funny! Highly, highly recommended.
Orange Is the New Black (Netflix, season 3 begins in mid-2015)
Yet another one that i'd heard was good from a lot of different people and yet had never really had much interest in. But we signed up for Netflix as part of our fuck-you to the cable company and one day while I was dog sitting and waiting for said dog to remember me and stop trying to eat me I decided to just check this out. So glad I did! It's not a perfect show – I have conflicting feelings about the main character, Piper – but we're really enjoying it!
Game of Thrones (HBO, season 5 begins in spring of 2015)
I think we may be the very last people on the planet to watch Game of Thrones. I had been planning on attempting to read the books before watching the show, but given that we're already in season 5 of the show and each of those books is a doorstopper, I figured it just wasn't going to happen and we dove in. There are a TON of people to keep track of – lots of men with beards – and lots of different story lines going all at once, but once we had sort of figured out who was who, we mainlined the rest of the series in a couple of weeks. So good! And it's so much fun to gasp at each twist and turn and unexpected beheading! (It can be just the teensiest bit gory at times…) I'm Team Daenerys at the moment – well, really I'm Team Arya, but I don't think she's going to ascend to the throne of Westeros any time soon. Watch it!
House of Cards (Netflix, season 3 begins February of 2015…probably)
Drew was very excited to watch this one – I guess I shouldn't have been surprised given how much he loved West Wing. It took me a little longer to get into – I was still overwhelmed from the flurry of Game of Thrones episodes we were coming off of – but once I figured out which middle-aged white dude was which, I was in! So twisty and plotty and good – and quite a few OMG moments which are always fun (I was spoiled for one thing but another thing took me completely by surprise – I definitely did not see that coming!)! Very, very good – can't wait to see what's going to happen next!
@midnight (Monday-Thursday @ 11:00 CST, Comedy Central)
My next edition of Getting Caught Up will be a podcasts edition – I've really gotten into podcasts lately – and I stumbled across this show as a result of my favorite podcast, Doug Loves Movies. In one episode, the host, Doug Benson, mentioned that he was going to be on an episode of @midnight, so I thought I should look into it. It's sort of a comedy panel game show type thing hosted by Chris Hardwick. Basically he and three comedians riff on various pop culture happenings. It's funny and features a lot of comedians that we enjoy from other podcasts (it's a very incestuous group of comedians that we seem to gravitate toward) and is a good way to keep up with Internet goings-on! Squatch what happens! 😉